塞斯曼管理咨询(北京)有限公司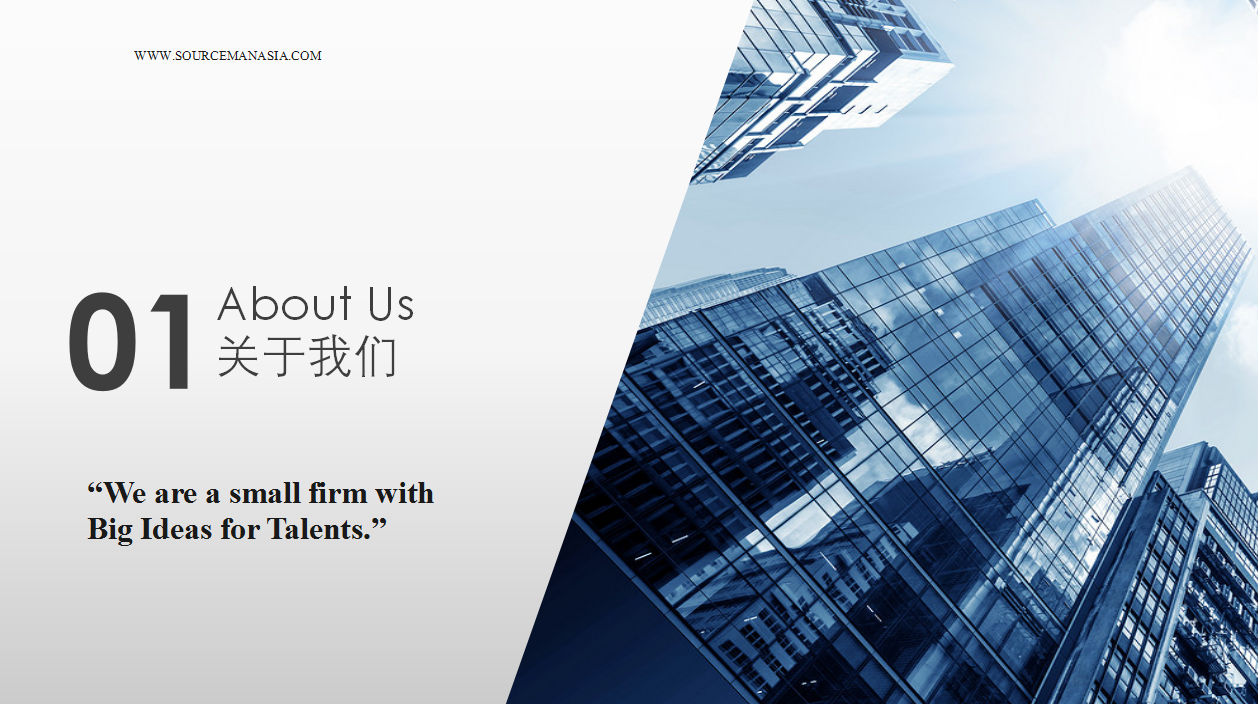 Sourceman International Consultancy Corp. (hereafter referred to as Sourceman) is a leading headhunting company founded in Beijing by a group of international professionals. Targeting the world top 500 enterprises and forerunner domestic enterprises, we provide services covering the whole nation, including cities like Beijing, Shanghai,  Guangzhou, Chengdu, Wuhan, Qingdao, Suzhou, Nanjing and Shenzhen etc.
       As a professional headhunting company,we take innovation,integrity, and endless pursuit of excellence as our cornerstone and strictly follow international convention and market rules. We have recommended many excellent talents to our international clients and paved a road of better development for our candidates.The "Source" of Sourceman means to provide our "source" to our candidates and resources to clients, building a seamless link between professionals and enterprises.

       We have accumulated a solid amount of pragmatic experience and practical knowledge about headhunting and our domestic market. Being a professional value enabler, we spare no efforts to select proper personnel for enterprises, and Sourceman has always emphasized seamless  match of our clients and job candidates. Meanwhile, we shall provide specified  and tailored solutions to target specific enterprises and industries.
       Our mission is to provide the most efficient service to meet the needs of both our clients and candidates. And we try to achieve the goal through functional specialization and consultative approach, which is supported by our Big Data Engine CRM+ and our expert team.

       We have a solid working foundation in Beijing and Shanghai (China's political and financial capitals) , as well as a better understanding of the Chinese market than any local or foreign companies, due to our excellent professional team.

       Besides, what also makes Sourceman different is our dedicated pursuit of sharing happiness and success with our candidates and clients. WE hold strong faith in positive sum gaming instead of zero sum gaming. WE are seeking win-win cooperation with our partners. WE never settle until we find what we want.
       The only thing that keeps us going is that we love what we do. Our work is going to fill a large part of our life, and the only way to be truly satisfied is to do what we believe is great work, and the only way to do great work is to love what we do.
       "If you haven't found it yet, keep looking, and don't settle. As with all matters of the heart, you'll know when you find it, and like any great relationship it just gets better and better as the years roll on. So keep looking. Don't settle."                             ----Steve Jobs

       With Great Vision, Sourceman searches over 15 countries and territories worldwide to find the best people for the best teams.
       We Provide:
       01 Highly functional recruitment firm with industry-based algorithm;
       02 Team performance oriented business model; 
       03 An Intelligent matching and assessing data platform;
       04 Full-spectrum Consultancy and Package of Services.

       To elaborate:
       Professional Recruitment
       Experienced and seasoned leadership is a powerful strategic asset, and there is no room for mistake in the selection of CEOs, directors  and other senior positions. In Sourceman, we integrate scientific research, market analysis, industry-based expertise, and legal consultation into our practical operation as well as our identification and recruitment of board directors, CEOs  and senior executives at the leading level and upstream of organizations across all sectors and fields.


       Management Consultation
       Sourceman focuses on helping clients attract, develop, and retain top class talents across a broad range of fields including management consultation, HR management.
       Our expert consultation can provide firms of all types the latest management solutions, development strategy, and talents of extensive knowledge.

       Financial Analysis
       Sourceman's financial team mainly focuses on Private Capital community. Our team has been serving the Private Capital community across the continuum of general partners, limited partners and key service providers to identify and cross reference candidates from multiple perspectives to ensure they fit into your corporate culture and strategic needs. We offer a full range of solutions to ensure you have the best financial talents, including strategic search, high-potential and executive leadership development, competency and simulation-based assessments, succession planning, as well as talent management strategy. Follow the international financial trend, we keep an eye on the changing data on the market and update our monitoring daily.

       Legal Consultation
       Our legal team are composed mainly of local lawyers who major in different fields. And their different expertise units to provide you a thorough understanding of the Chinese legitimate and judicial system, so as to prevent any lawsuits in the future. Also, we can offer you legal consultation about how to operate within the system.

       Language Support
       Sourceman provides diverse language service, including localization of foreign companies, and Chinese companies going abroad. Also, we provide individual language guidance to our both our candidates and clients. Also, our language team will provide timely communication between the working two sides. We are building a better future in multiple language.




Address: 3rd Floor, Fosun International Center
      237 Chaoyang North Road
      Chaoyang District
      Beijing,100022, P.R.C.

T:86 10 5721 0700